The new Midas M32 console is available to hire from Showtec.
The groundbreaking M32 console combines legendary MIDAS sound quality with advanced digital technology, future-proof 96 kHz capable open architecture design and industry-leading 192 kHz ADC and DAC converters, creating a revolutionary mid-format live console. The M32 utilises award-winning MIDAS PRO Series microphone preamplifiers and the custom-designed MIDAS PRO motorised faders that are rated for 1 million life cycles-three times more than other leading consoles.
Live performance and studio recording digital console with up to 40 simultaneous input channels.
– 32 award-winning MIDAS microphone preamplifiers
– 25 time-aligned and phase-coherent mix buses
– AES50 networking allows up to 96 inputs and 96 outputs
– Open architecture allows for future 96 kHz operation
– 192 kHz ADC and DAC converters for outstanding audio performance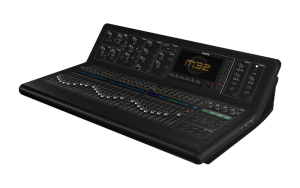 At just £80per day & £360 per week its an unbeatable hire price!