The new Midas M32 console is available to hire from Showtec.
The groundbreaking M32 console combines legendary MIDAS sound quality with advanced digital technology, future-proof 96 kHz capable open architecture design and industry-leading 192 kHz ADC and DAC converters, creating a revolutionary mid-format live console. The M32 utilises award-winning MIDAS PRO Series microphone preamplifiers and the custom-designed MIDAS PRO motorised faders that are rated for 1 million life cycles-three times more than other leading consoles.
Live performance and studio recording digital console with up to 40 simultaneous input channels.
– 32 award-winning MIDAS microphone preamplifiers
– 25 time-aligned and phase-coherent mix buses
– AES50 networking allows up to 96 inputs and 96 outputs
– Open architecture allows for future 96 kHz operation
– 192 kHz ADC and DAC converters for outstanding audio performance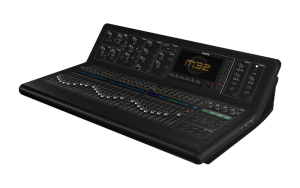 At just £80per day
………………………………………………………………………………………………………………………………………………………………………………
Earlier this year we purchased an Behringer X32 & the new Midas M32.
After the collaboration of Behriger and Midas, they came together making the most affordable 32 channel digital console – the X32
With the use of Midas based preamps, it gives you that Midas reliability when your looking for your sound.
We felt that this desk was perfect for some of the smaller shows we deal with, its size and flexibility with the IO, it really does put it in a class of it own.
Both the X32 & M32 have a 32 channel audio interface, that means you can record with one cable from the desk to a laptop and record all the individual channels to mix down at home. If thats sounds abit too much, just pop a memory stick in the top of the console and that shall record the Mix outputting the desk! leaving you with an Mp3.
40-Input, 25-Bus Digital Mixing Console with 32 Programmable MIDAS Preamps, 25 Motorized Faders, Channel LCD's, 32-Channel Audio Interface and iPad/iPhone Remote Control.
Available to HIRE NOW at just £55 a day or £195 a week! VAT included!